chloe turner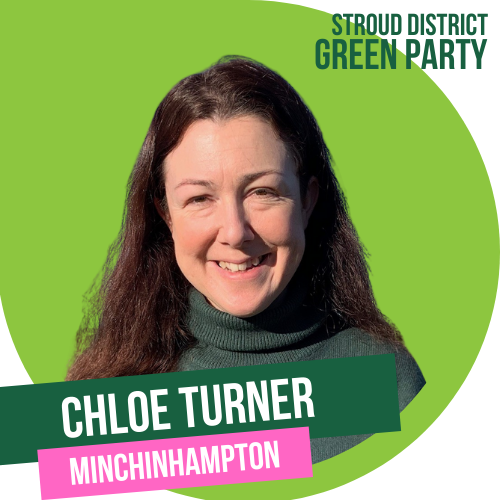 After studying at Cambridge University, I worked in London in my 20s, then returned to my Stroud family roots with my husband, to raise our family in Minchinhampton. I am qualified as a chartered accountant, though these days I work part time as the project coordinator for a community group in Stroud, and use my financial experience primarily in my voluntary roles.
In my spare time, I love exploring our countryside with my family. My young son and I keep bees together, and I also write short fiction, recently acting as co-judge for the upcoming ten year anniversary Stroud Short Stories event.
Since September I have been the caseworker for Green County Councillor Rachel Smith, while she's been on parental leave. I have loved rolling up my sleeves and solving local issues. It's been great to work in partnership with district council colleagues, and to make myself useful to the parishes.
I have held many voluntary roles over the years, often as the treasurer or finance lead. I am coming to the end of my term as a governor for a local primary school, leading its Finance and Resources committee. I have raised many thousands of pounds in grant funding for school projects.
Now my children are gaining independence, it's time for a new chapter in my life, and I want to increase my focus even more on our local area and our strong community. I think my considerable skills, experience and dedication mean I'm well placed to do a good job as both district and county councillor for Minchinhampton.
Contact Chloe
chloe.turner@gloucestershire.gov.uk
07710 514 689