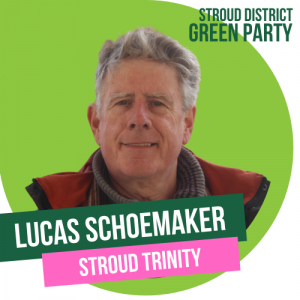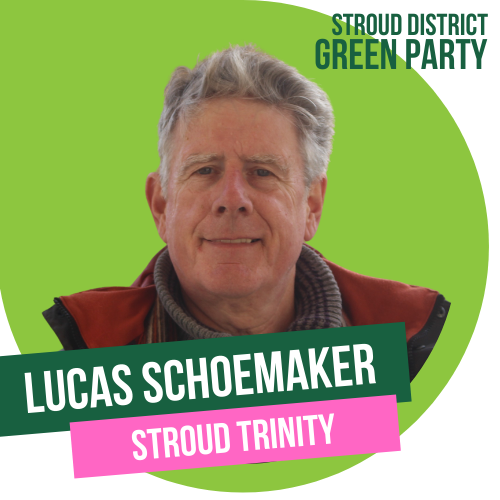 Lucas Schoemaker has lived in Gloucestershire since 1979, originally as a herdsman on a farm in Frocester. He moved to Stroud in 1984, having 'discovered' the town and loving its vibrancy when working as a heating engineer.
Since living in the area he has been involved in many initiatives set up to address social and economic needs, including: WATNOT recycling, Lansdown Hall, Five Valleys Foyer, The Exchange social enterprise centre and Oakbrook Community Farm. In his professional life Lucas works with housing associations, community interest companies and individuals to help them meet their challenges.
"Communities should work for everyone, and we all play a part in co-creating truly fair societies," he said. "Local solutions should be found to local needs, through working with other local people."
Lucas believes in progressive local solutions such as credit unions, community focused affordable housing, and co-housing projects. He is sceptical about corporate solutions, such as the Gloucester incinerator, nuclear power and major road-building.
His early life in the Netherlands gave Lucas exposure to the Dutch style of voting, which is much fairer than our current unfair First Past the Post system. This made him a firm believer in proportional representation – with PR every vote counts - and he is a campaigner for the pressure group Make Votes Matter.
Lucas lives with his partner in Trinity, the ward he has represented as a town councillor since 2011. His hobbies include singing in a community choir, gardening, exploring the British Isles and admiring the exploits of his five grown-up children.
CONTACT LUCAS
lucas.schoemaker@stroudtown.gov.uk
01453 840039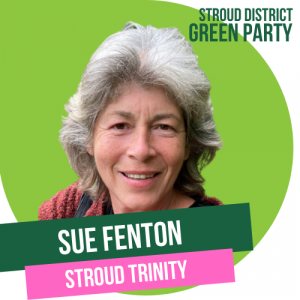 Sue Fenton is a freelance writer and editor. She loves Stroud for its stunning scenery and green spaces and for its environmental and social progressiveness.
She serves on the Environment and Community committees and is part of the Subscription Rooms working group.
She likes the fact that town councillors from different parties work together amicably to reach consensus on what's best for the town.
 In her spare time Sue enjoys genealogy, gardening, songwriting and exploring the area with an OS map to keep finding new walks.  
Contact Sue
susan.fenton@stroudtown.gov.uk
07931 541369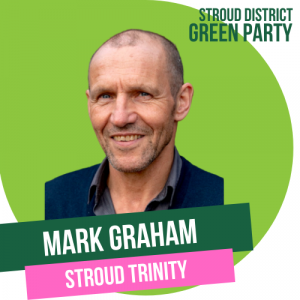 Mark is an ecologist and author with many years' experience of working in conservation and habitat management.  Mark has lived in Stroud for seven years, during which time he has supported various environmental projects.  Mark has previously appeared on local and national radio and television promoting a wide range of environmental issues.  He is passionate about wildlife and the need to preserve biodiversity and to address the devastating effects of climate change.   
Mark believes that real change has to happen at the local level and that Stroud can become a model for sustainable living, demonstrating to others that it is possible to live a fulfilling life without compromising the wellbeing of future generations. 
Contact Mark
07530 491165