Beki aldam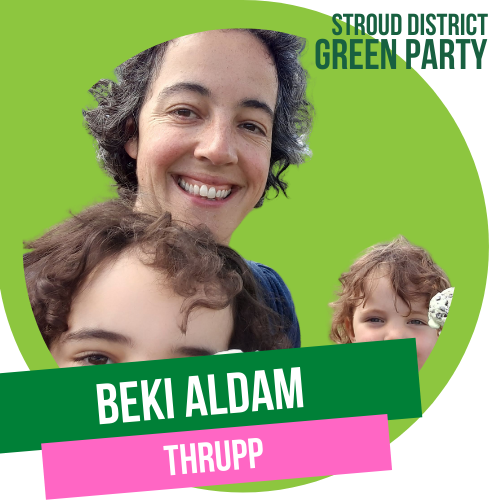 Our area has been represented by a Green District Councillor, Martin Whiteside, for eighteen years! I'm so pleased to use my enthusiasm and dedication to the community to continue his brilliant work.
I am a mum of young children and a teacher. I also volunteer on community projects I am passionate about:
As an English teacher, I am enthusiastic about reading (just ask my students!) During the last lockdown, my daughters and I delivered hand-wrapped books in our community by bike.
I litter pick regularly around Thrupp, Brimscombe and Rodborough, where we take our family walks.
To combat loneliness for both new parents and older people, I set up Interplay, a playgroup bringing together pre-school children with older people.
I am working with Stroud Against Racism to bring an exciting and positive module of work to schools in Gloucestershire.
As part of our local climate action network (BATCAN) I plant trees and am involved with a garden-sharing scheme.
One of my passions is cycling. As well as advocating for better cycling infrastructure, I have founded a group for people with cargo bikes in and around Stroud.
Contact Beki
rvaldam@gmail.com
07593 365767
thank you for keeping brimscombe & Thrupp green
Beki will continue Martin's work with Stroud District Council to ensure the re-development of Brimscombe Port includes the voices and views of local residents and that excellent social enterprises like the Long Table, Food Bank, Kids Stuff and Rush are helped to move to new permanent homes.
Butterrow/Rodborough Common
Beki will continue Martin's work for a 20mph speed limit for the residential areas on Butterow Hill and for lower speeds across the commons, including better enforcement. This would make our community safer for people and cows - making it a better place to live and visit.
Beki will work with community groups, Parish & Town Councils to develop better walking & cycling along and across the Golden Valley. It must be safe for children to cross the road to the bus stops & for many more of us to get out of our cars & onto our bicycles.
We believe in being brave, in speaking our minds and together we can do politics differently
A barn dance is being held at Coaley Village Hall on Saturday May 28 from 8pm to 11pm. Tickets for the 'Dance for Nature' at the venue in The Street, […]
follow SDGP on social media