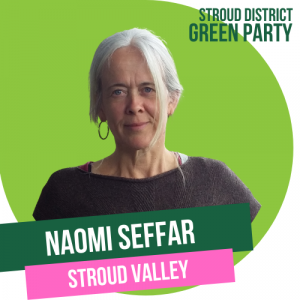 I feel very fortunate to be living in the centre of this vibrant town and wish to make a positive contribution in my role as a Town Councillor.
I am passionate about sharing knowledge and resources for a fairer and more resilient community and am encouraged by the many groups and organisations cooperating and working to achieve these aims.
With this in mind, I am happy to promote community initiatives that work towards social justice and that respond to the challenges of food security, the climate crisis, habitat loss and vanishing biodiversity.
I enjoy being actively involved in supporting artistic and cultural events at various local venues and assisting at festivals.
Since moving to Stroud in 2016 I have worked for a local business on the High Street and at Stroud General Hospital. I currently help on a stall at the weekly Farmers' Market and love working on the land and connecting with local growers and producers.
Contact NAOMI
naomi.seffar@stroudtown.gov.uk
07923 524649