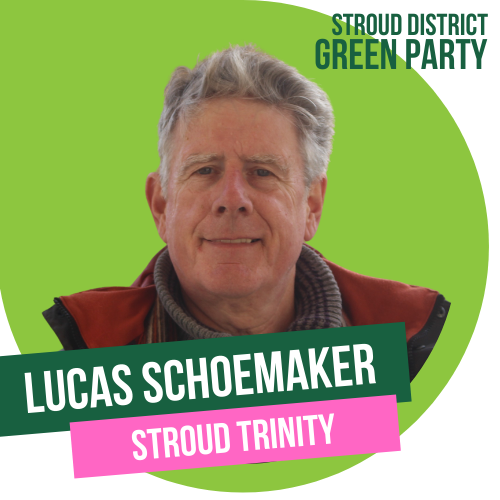 Lucas Schoemaker has lived in Gloucestershire since 1979, originally as a herdsman on a farm in Frocester. He moved to Stroud in 1984, having 'discovered' the town and loving its vibrancy when working as a heating engineer.
Since living in the area he has been involved in many initiatives set up to address social and economic needs, including: WATNOT recycling, Lansdown Hall, Five Valleys Foyer, The Exchange social enterprise centre and Oakbrook Community Farm. In his professional life Lucas works with housing associations, community interest companies and individuals to help them meet their challenges.
"Communities should work for everyone, and we all play a part in co-creating truly fair societies," he said. "Local solutions should be found to local needs, through working with other local people."
Lucas believes in progressive local solutions such as credit unions, community focused affordable housing, and co-housing projects. He is sceptical about corporate solutions, such as the Gloucester incinerator, nuclear power and major road-building.
His early life in the Netherlands gave Lucas exposure to the Dutch style of voting, which is much fairer than our current unfair First Past the Post system. This made him a firm believer in proportional representation – with PR every vote counts - and he is a campaigner for the pressure group Make Votes Matter.
Lucas lives with his partner in Trinity, the ward he has represented as a town councillor since 2011. His hobbies include singing in a community choir, gardening, exploring the British Isles and admiring the exploits of his five grown-up children.
lucas.schoemaker@stroudtown.gov.uk
01453 840039
thank you for Keeping stroud trinity green
Littering, and not clearing up after dogs, is unhygienic and it can result in a fine. Lucas wants to see our beauty spots kept beautiful.
Lucas is pushing the county council to repair potholes faster and better, and is keen on active travel schemes to make roads safer for drivers and cyclists.
Lucas believes local children should be able to go to local schools. He opposes the closure of Severn View School, which will mean long journeys for some pupils.
We believe in being brave, in speaking our minds and together we can do politics differently
A barn dance is being held at Coaley Village Hall on Saturday May 28 from 8pm to 11pm. Tickets for the 'Dance for Nature' at the venue in The Street, […]
follow stroud greens on social media