a message from cllr. Simon Pickering
Introducing your Green Candidate for Stroud District Council
I was first elected in 1991 and have served on the District Council for 21 years. So now it's time to make way for someone who can bring new energy and enthusiasm to continue to make change. That person is Adrian Oldman.
Adrian has been active in improving Stroud for over 30 years, and is passionate about the Town and the District: I first him whilst we were protecting the trees in Stratford Park from being cut down; a fight we won and which brought the first traffic calming to Stroud. Adrian has been helping me during the Pandemic - litter picking (when the lockdown rules allowed it), supporting your Green county councillor, Eva and other residents' work to slow traffic on Bisley Old Road, getting fly-tipping removed quickly, and keeping in touch with residents throughout lockdown. So he is ideal to be the Green Party candidate to replace me on the District Council.
As an active local resident who is involved in, amongst other things, youth work for The Door and the Middle Hill Community Association, as well as the Freezer of Love at the Top of Town. In addition to his work in the Ward, Adrian is involved with The Bike Drop in Brimscombe, as well as a Director of Transition Stroud, and a member of the organising committee of Stroud Imagines.
Adrian is absolutely committed to and passionate about Stroud, and I know he will be a fantastic champion for this community and go that extra mile to support residents and get things done.
Adrian is independently-minded and, like all Green Councillors with no Party whip, will be able to speak out for the good of residents in this ward and take action for you. And, as part of a Green Team across all Councils, he will be able to work with our Green County councillor and town councillors to champion mental wellbeing, youth services, to get pot-holes filled in, traffic speeds slowed and rubbish collected.
I am delighted to be followed by someone so capable, enthusiastic and inspirational and I hope that you will place your trust in the Greens again and vote for Adrian.
Adrian Oldman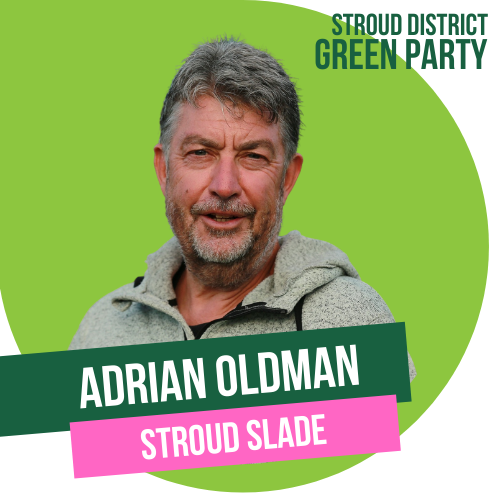 I'm excited and hopeful about becoming your next District Councillor in Slade Ward. Although the Green Party has won this seat at every election since 1986, I'm not counting my chickens, so your vote really matters! If you want a councillor who is independent, dedicated and effective, then that's me. If you share my commitment to supporting local communities and protecting our environment, then only a Green vote will count. I pledge to put people and planet before party politics, and I pledge to work with other parties to negotiate the best solutions for all residents. If I am elected I promise:
I will work my socks off to represent you
I will champion the wellbeing of all local residents; giving a voice to those who are often not represented
I will campaign tirelessly to increase the diversity of councillors on the Council, supporting and mentoring a younger person to eventually follow in my footsteps
I will work with colleagues in the Town and County councils: because Greens know that, by working in partnership, we can achieve more
I will continue to listen to you and keep you informed via regular surgeries, social media and newsletters

You might not have voted Green before, but if, like me, you want a different approach and a better way of doing things, why not give me your support to keep Stroud Green?
where is stroud Slade ward?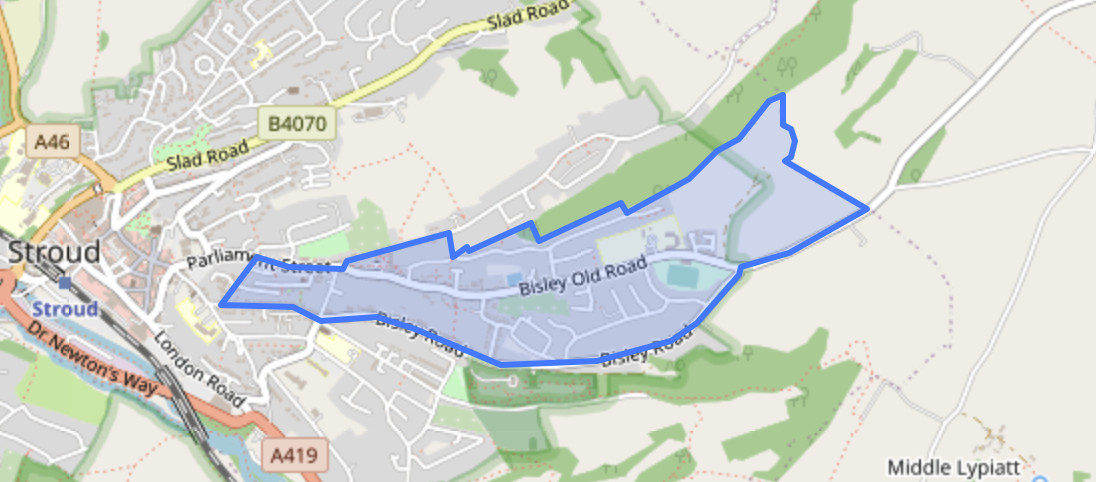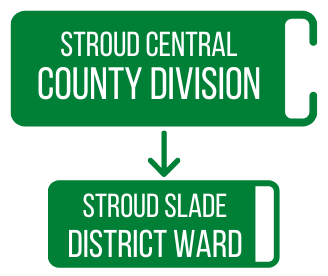 read Stroud Slade newsletter below
There's plenty of dog poo bins around, please use them. If they're full, you can use ANY council bin. If you see an overflowing bin, you can always report the bin number to SDC - just click here.
The reduced 20mph speed limit on Bisley Old Road and the traffic calming on Bisley Road, introduced by Green Councillors have helped make the roads in the Ward safer - but we're pushing for more.
The value of outdoor space and leisure facilities for our mental health have never been more important, particularly for children. Adrian will prioritise residents' wellbeing and be a champion for the town's young people.
We believe in being brave, in speaking our minds and together we can do politics differently
Green District Councillors have been writing to EU citizens living in Stroud District to offer advice on applying for settled status before the June 30 deadline. It is feared that some could end up without secure residence status as they do not realise that they need to go through a bureaucratic process to guarantee their […]
follow Stroud greens on social media