Rachel Smith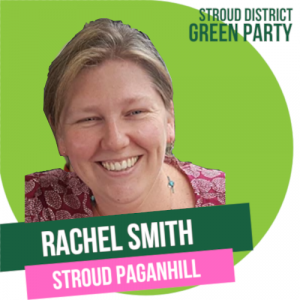 Rachel grew up in the Stroud area, and in 2016 moved to Stroud town where she lives with her husband Tim and their two children. Rachel is a qualified music therapist with extensive experience in adult social care. Rachel was previously elected to Gloucestershire County Council for one term. Rachel is delighted to be co-opted on to Stroud Town Council and has a particular interest in improving cycling conditions in and around the town.
Contact Rachel
rachel.smith@stroudtown.gov.uk
07709 302038
Liz Child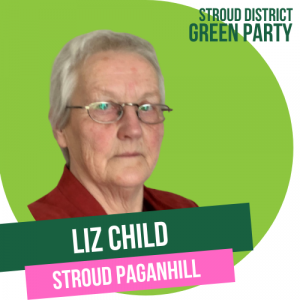 Liz has lived in Paganhill for six years and grew up in Stroud District.
A retired plumber, with earlier experience in child and mental health care, her community activities have included initiating and designing a community garden at the new Octagon social hub.
She enjoys creative writing and gardening, and has a particular interest in
agroecology, food quality and climate change resilience.
"I really enjoy getting involved in projects that benefit everyone in a growing, resilient community," she says. "Being a town councillor gives me the chance to support other local community-led groups and projects, and to represent and defend the culture and character of our lovely town."
Contact Liz
07811 640031
ADRIAN OLDMAN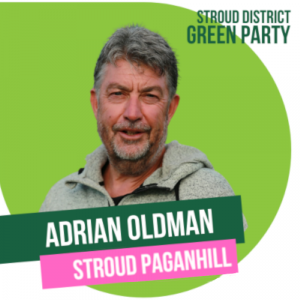 I have worked for the past 20 years in communications and marketing for a range of social enterprise, charities and housing associations. I am currently a part-time youth worker for Stroud-based charity, The Door.
Ever since I came to work in Stroud in the late 1970s, I fell in love with the town. For me it has everything that you could want - beautiful countryside with our hills and valleys, vibrant, mixed communities, great pubs and a vibrant, independent and social business community.
Politics, especially at a local level, is about all the day-to-day things that affect people's quality of life. It's clear to me that the Town Council has a great vision for the town and its people, and I'm incredibly excited about playing my part in helping deliver its vision.
Contact Adrian
adrian.oldman@stroudtown.gov.uk
07772 808 267