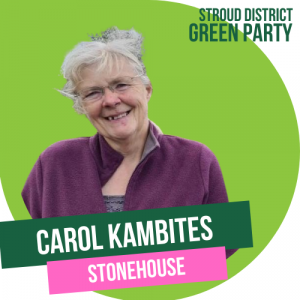 Carol moved to Stroud with her husband in the early 1970s and joined the Green Party (then the Ecology Party) in 1976. She has lived in Kings Stanley, Cashes Green and Stratford Road but is now settled in Stonehouse.
She has been a member of Stonehouse Town Council for 12 years and is now Deputy Mayor of Stonehouse and chairs the Town Environment Committee and Stonehouse Community Climate Action Forum.
Carol is a keen cyclist and walker and is involved with Stonehouse Walking Festival and the campaign to re-open Stonehouse Bristol Road station. She is also Chair of Stroud Valleys Cycle Campaign. Her passion is to campaign for social justice and environmental sustainability at all levels from local to global.
A retired teacher and research fellow, Carol has two grown up sons and four grandchildren.
Contact CAROL
councillorkambites@stonehousetowncouncil.gov.uk
01453 827929